Does 5G cause COVID-19? Is Bill Gates on a mission to turn us all into zombies to rule the world in his evil empire? Muahahahahaha!
The simple answer is no. This article wasn't written to debunk any of these theories. If you really want to debunk these theories for yourself, there are plenty of reliable, factual resources online. You simply have to leave out the "conspiracy about" part when you type your search into Google.
And yes, you can trust sources like Wikipedia and many of the large publishers out there as they are supported and written by volunteers from around the world and from varying spectra of political, religious and scientific backgrounds and communities (not the government!).
Let's take a step back for a minute and assess the social media landscape from an outsiders perspective. Yes, it is ok to stay off Facebook for a few days; you won't miss out on anything important. FOMO yo!
Just look at Bitcoin
If you're the kind of bold distruptor who occasionally stays off social media for a few days and then jumps in again, you might have noticed something strange. Unlike every time you open the cupboard to check if new snacks might have magically appeared since 5 minutes ago, the metaphorical cupboards of Facebook or Twitter are suddenly exploding with brand-new supplies of fearmongering, panic and tinfoil hattery.
Ready for an actual conspiracy theory, based on known facts? Lets put our tinfoil thinking cap on for just a few minutes.
What?
You might remember a while ago there was a big scandal going around about a couple of little companies called, Cambridge Analytica and Facebook. In case you've been living under a rock and have no idea what this is about, sources are here (Wikipedia), here (WIRED, a nice brief overview if you don't feel like reading the whole story), here (The Guardian), here (The New York Times), and here (Vox).
The gist of it is this: Big data analytics company figures out how to mine users' personal data off big social media platform and uses their powers to assist the highest bidder in winning political campaigns.
From the perspective of a digital marketing agency, their tactics were quite admirable. But a little more on that later.
Enter RT (formerly known as Russia Today), a Russian government-funded international television network. They're known for riling up the US public by helping the spread of conspiracy theories, such as the infamous and laughable 5G radio waves have the ability to create viruses and will cook your brain.
Now why would RT back these theories? Well, I'll leave it up to you to connect the dots. This article is not about debunking conspiracy theories, remember?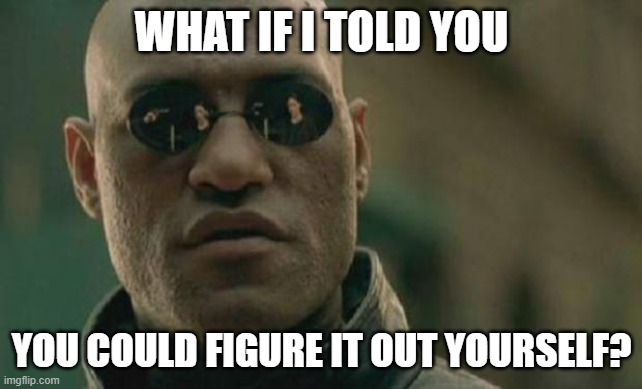 Stop taking the Blue Pill!
Lets get back to the tactics these networks, data companies, marketing companies and political figures are using to win over their followers and instil blind devotion in them.
If you know anything about digital marketing across various platforms, you'll know it costs money to get your message out there. You need to spend money on advertising, and building a following to get your message across.
Every marketer's dream is to have their content go viral. When content goes viral, it is shared by thousands, possibly millions, of people around the world. For free. Even better when users' emotions have been sparked and they feel some kind of way about it.
Now let's say you're a digital marketing agency and you have access to an infinite budget to push into a marketing campaign designed to sway populations on a national or even international scale. Yes, you pay for a bit of advertising here and there.
But what will work even better than paid advertising?
Well, the answer is simple. You create thousands of fake profiles, pages and groups. Infiltrate online communities and convince people to back a theory which supports and strengthens your campaign.
It's that simple. With a massive budget, this is easily achievable. And in today's world of AI and bots, the possibilities are endless. Personally I've noticed countless questionable profiles on social media platforms like Twitter and Facebook. At first glance these accounts look legit, but when you look carefully, you start noticing algorithmic patterns in the way content is posted and the type of content posted.
These profiles post about an estimated 80%+ of propaganda and conspiracy theories, 5, 10, 15+ times a day. Considering there are big elections coming up in the US, combined with the worldwide pandemic and panic currently going on...I'll let you do the maths.
So is it really so far-fetched to consider, with perfect timing and a well-executed strategy, that all your paranoid conspiracy theory friends have been turned into propaganda spreading spam bots?
Click farms are so 2019
To see this for yourself, try to stay off social media for a while. Especially Facebook as it's just become a cesspool of paranoia and conspiracies lately. Then take note when you check back in how it suddenly feels like you're being hit in the face like that cold blast from the refrigerator when you open the door.
Try to think back to the days where all you saw were lunchtime updates and baby photos. Then take note of what you see now. It's almost as if the taps have been opened up and there's been a ramping-up campaign of getting the mob of pitchfork bearers seriously riled up.
Fair enough, we're also dealing with a worldwide pandemic the likes of which none of us have ever experienced in our lifetime. But what happened to rational thought and critical thinking?
This is what cyberwarfare thing looks like, folks. And yes, it's an actual thing. For fear of sounding like a conspiracy theorist myself, I hesitate to use the words "mind control". But isn't that exactly what this is?
Add in the neo-Nazi white supremacy movements like Qanon (for the uninformed, please be sure to familiarize yourself with what Qanon really is), stoking the fires with their deception and lies about "changing the world for the better" to win over votes for their messiah, Donald J. Trump. No wonder it feels like we're sitting on a tinderbox, just waiting for that one spark that's going to send the whole thing up in flames.
And no, Youtube, Facebook and Twitter are not censoring your posts. They don't work for the CIA or NSA! They're doing their share to help combat fake news, lies and deception. Just like we all should be doing.
Don't be part of the problem. Be part of the solution. Stay informed. Keep up to date with what's happening out there in the world. Be vigilant, folks!
Disclaimer: I'm not saying the theory posed in this article is an absolute fact. I'm simply presenting you with some facts and reminders to assist you in making up your own mind and hopefully give you a bit of pause before you hit that share button on the next big conspiracy theory being pumped at you at 200m/s.